According to David Day, principal at Sheppey Academy, Kent, We felt that the power of words could be more influential
paperhelp
han the power of monetary rewards. According to him it is the inner motivation of the students that encourages them for academic progress and not the monetary rewards.
→ UPCOMING
Exhibition: 19th Oct – 4th Nov 2018
Vibrant Matter part of "Sound Art To Object"
Curator: Joost Fonteyne
Sound/Dance Performance: 4th Nov 2018
Silent Ghost at festival 'Gent Bougement'
Lecture: 21st Nov 2018
Binaural lecture/performance at Social Research department University Tilburg
Curator: Antonio Sforna
Sound Performance: 30th Nov 2018
Binaural sound performance at Stromschiene Series in Alte Schmiede Vienna.
Curator: Volkmar Klien (Stromschiene Series) – Elisabeth Zimmermann (Kunstradio)
Silent Ghost: Performance 2018


Silent Ghost is a sensorial performance creating a poetic language through paper, sound and movement. Huge sheets of paper are transformed by the movement of 5 dancers, their sounds amplified, their images frozen on the eye. How strong are you? How vulnerable are you? How do you really feel on the inside? A sound becomes tangible, a movement complements what can not be outspoken. Through the use of a binaural setup on stage, the audience is immersed in the sonic moving paper world, while the voice of a silent ghost guides them through their own metamorphosis.
"Where do you go when you feel lost?"

Premiere:
4th November – Gent Bougement Festival
Concept, Set design: Aileen Bonne, Els Viaene
Choreography: Aileen Bonne
Sound, Text: Els Viaene
Dancers: Emy Mortier, Debbie De Langhe, Amaury Rohan, Daan Jaartsveld,
Laurent Delom de Mézerac
Light design: Eva Dermul
Technical design: Koen Daems
Artist Research – funded by the Flemish Government
(2018 – 2019)
Until now i approached sound as an end product through the use of field recordings. In this research i want to investigate sound at its source, the moment it is shaped, sound as a physiological phenomenon (a vibration, a wave, a variation in air pressure). 'Shaping' and 'appearing' are in this research two important concepts. How can i shape sound into matter which manifests itself as a tangible, visible medium?
Performance: Potamoi
Tuned City Messene 2018
June 1 – June 3
Tuned City is a platform researching relations between sound and space in the urban context. For the first time the place will not be an urban central European city, but the exemplary "ideal city" in the sense of the Greek polis, Ancient Messene.
In this context i'm currently working on a live performance:
The Potamoi are the gods of the rivers and streams of the earth. They were believed to be the first aboriginal kings of the land. In Greek mythologies, water or rivers are a pathway to invisible worlds. On the site of Ancient Messene runs the river Clepsydra as a line woven through time and space, carved in the landscape, as a carrier of lost histories and vivid mythologies. Can we scan its traces and follow its line and functions throughout history?
In this performance Els Viaene will start by zooming into the smallest particles, fabrics of the landscape, slowly zooming out, following the trace of the river, each step in the process revealing another mode of listening, another way of tuning into the landscape, folding one space into another until we start to deconnect more and more from the surrounding landscape.
Is what we hear real or is where we are real?
Vibrant Matter: Sound Installation 2016

Mois Multi (CA) – RectoVerso – February 2018
Bruits Blancs (FR) – Anis Gras – November 2017
Lab30 (DE) – Augsburger Kunstlabor – October 2017
Storm Op Komst (BE) – Cultuurhuis De Warande – March 2017
The State of Things (BE) – iMAL – November / December 2016
Interferences (BE) – KIKK – November 2016
Listening Dune: Site-Specific Sound Installation  2016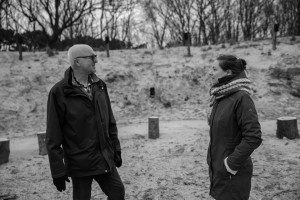 Last year in Gdańsk: Group Exhibition and Publication 2016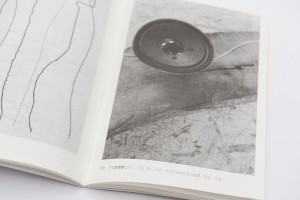 With Line Boogaerts, Frank Depoorter, Lore Rabaut, Oscar van den Boogaard
Production: Nucleo – Publication: Topo Copy